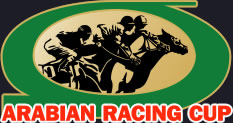 Breeder Incentives
Breeders Win Money! Nominate now.
**Nominate foals by December 31. Late fees may apply.**

ARC Breeders Incentive Program Preparing to Transition
Out of Pre-Program Into Full Program in 2020,
and Why This Matters to Breeders Now
The Arabian Racing Cup (ARC) is a nationally-chartered organization whose
primary mission is to support breeders of Arabian racehorses in the United States.
"If we don't have breeders," said Michelle Morgan, ARC Chief Steward, "then we don't have a racing industry."
This was the motivation for launching the ARC Breeders Incentive Program that financially rewards breeders of Arabian racehorses that run in races designated as eligible for these incentive funds.
Launched in 2016, the program is designed to pay back breeders of the top placings in ARC Breeders Incentive program designated races if the horse(s) was nominated into the program before the age of three. Once nominated, the horse is eligible for these funds for life, regardless of ownership transfers, as long as the horse remains in the United States, thereby creating an ongoing incentive specifically benefitting its breeder for the horse's lifetime.
Nominated requirements for eligible horses are as follows:
Horse must be sired by an ARC Breeders Incentive Program Nominated Sire (Stallion must be nominated for the year in which the foal was conceived/the year the dam was bred)

$500 Nomination Fee must be paid in full before December 31st of its two-year-old year. (May be paid in three installments: $50 as a weanling; $200 as a yearling; $250 as a two-year-old for maximum ease on the breeder.)
The ARC earmarks a set amount at the beginning of each calendar year, historically between $18,000 and $20,000. These funds are divided equally among the state affiliate organizations, who in turn choose four races – conditions ranging from maiden, non-winners of 2 or 3, claiming or allowance – to designate these funds toward.
It is important to note, however, that when the program was launched in 2016, the ARC decided not to enforce this nomination process for the first few years, and instead pay out the full amount to the breeders of the 1st, 2nd and 3rd horses, regardless of their nomination process.
"We made this decision for two primary reasons," said Morgan. "First, we wanted to make the program active immediately, rather than stall it until the first nominated horses became of racing age. And second, we wanted to offer this as a way to widely publicize and educate on the program in its first few years of existence."
For example, in 2017, each of the ARC Incentive Program races that went off were designated $1,500 in breeders incentive funds, and the breeder of each of the top three placing horses were mailed a check for $500 within the following week – regardless of whether or not the horses were nominated in the program.
The program will continue in this way again through 2019, rewarding all breeders regardless of the runner's nomination status.
However, in 2020, the program nomination requirement will be placed in full effect, requiring that horses running in ARC Breeders Incentive Program races are fully nominated before their three-year-old year in order to receive these funds for the remainder of their lifetime.
Why is this timely now?
Horses that are being pointed to the track by 2020 for their first starts are youngsters now and must be nominated in order to receive rewards. They must be nominated before they turn three (before December 31st specifically) in order for the breeders to remain eligible for program funding beginning 2020.
And while breeders are welcome to pay the full $500 nomination fee at once, they may also pay it incrementally beginning as a weanling as part of the program's installment route.

"We decided to offer the option of installment payments so that the breeder was not forced to pay the full amount up front and risk the horse getting hurt or never making it to the track after the full amount was paid," said Morgan. "It was our goal to make it as easy on the breeder as possible, while then providing them the opportunity to make it back all at once with either a 1st, 2nd or 3rd place finish. Anything else earned after that first payout during the horse's lifetime would be gravy."
Each Spring the ARC Board of Stewards sit down and decide how much will be earmarked that year for the ARC Breeders Incentive Program. A total of $18,000 is earmarked for paying out this year to the three state affiliates (California, Delaware and Texas) over four races each ($1,500 per race, paying $500 to the breeders of the top three horses).
"We want to be able to grow the program into more than four races per state eventually," said Morgan, "which is why were are staying around the $18,000/year mark until the full program is launched in 2020."
For more information, contact
Michelle Morgan, ARC Steward
PROGRAM REQUIREMENTS
Stallion Program Requirements
The stallion is nominated by the Owner, Agent, or Lessee.
A stallion must be paid into the Cup program every year in order for foals born the following year to be eligible for the Foal Program.
A stallion must be nominated and paid in full the year the mare is bred to that stallion in order for resulting foal to be eligible for the Foal Program. The fee is $150.00 every year for each stallion. (Nomination date is JANUARY of breeding year in order to get benefit of promotion of their nominated status. Remember also, anyone can nominate the stallion-- not only the stallion owner.) 
Stallions from all over the world are eligible as long as they are recognized by the Arabian Horse Association.

In return for fees paid, every year Nominated Stallions receives:
Advertising through all Cup Stallion advertisements and promotions.
Special recognition in the Arabian Finish Line Stallion Guide.
Because foals by Nominated Stallions are eligible to earn additional money, this will encourage breeders to breed to a Cup Nominated Stallion.

Foal Program Requirements
Foal must be sired by a Nominated Stallion (the stallion must be nominated in the year that the foal was conceived- in other words, the year that the stallion bred the foal's dam.
In order to receive incentive funds, eligible foals must be fully nominated into the Incentive Program. Once nominated they will be eligible for their lifetime.
Foals are nominated and paid for by the breeder. The breeder can be an owner, agent, or lessee, but the foal's registration papers must have this person listed as the breeder.
Incentives are paid to the breeder, no matter who owns the foal at time of running.
The Nomination Fee of $500.00 may be paid all at once in the weanling year or over a three year period as follows:
Weanling year - $50.00 due by December 31 of foaling year
Yearling year - $200.00 due by December 31 of yearling year
2-year-old year - $250.00 due by December 31 of 2-year-old year.
This system allows the breeder to evaluate the foal before making a complete commitment. It also protects the breeder in situations where the foal is sold and will not run in the United States, sustains an injury and cannot race, etc. Paying in full at once is available for those who wish to add immediate value to their racing prospects.

NOTE: The mare must be bred to a Cup nominated stallion
in order for the resulting foal to be eligible for a breeder to receive incentive rewards.
INCENTIVE FUND PAYOUTS
A FULLY NOMINATED FOAL IS ELIGIBLE TO EARN BREEDERS' INCENTIVE REWARDS FOR THE BREEDER OF RECORD IN ANY CUP-DESIGNATED BREEDERS' INCENTIVE REWARD RACES HELD IN THE UNITED STATES THROUGHOUT ITS RACING CAREER.

Each year, the Arabian Racing Cup determines which races will be designated Breeders' Incentive Reward races. The Reward funds are dispersed on a percentage basis to the Breeder of Record of any fully nominated horses finishing first, second or third in these races. This money is paid out directly by the Arabian Racing Cup and is not part of the purse. Any money not paid out is returned to the "pot" to be eligible for future races.
For more information, please contact Michelle Morgan, Cup Steward, at 214-679-2026 or mmorgan@ont.com.