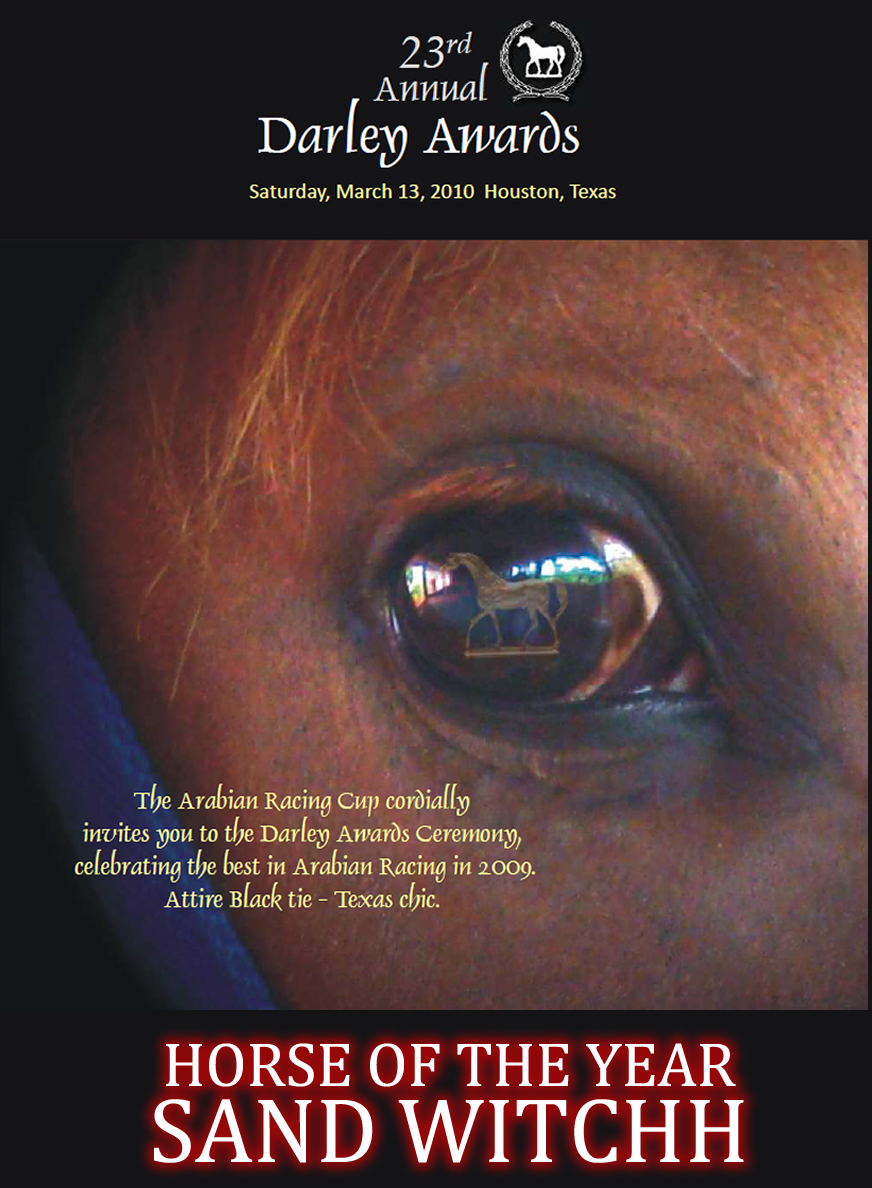 Three Year Old Filly makes history, SAND WITCHH named Horse of the Year
Houston, TX / USA -  March 13, 2010 ~ On Saturday, March 13, an enthusiastic group of Arabian racing fans gathered in Houston, Texas for the 23rd annual Darley Awards ceremony sponsored by the Arabian Racing Cup (ARC). Attendees were on hand to witness who would be taking home the coveted trophies designed by artist Karen Kasper.
Prior to the awards being handed out, a stallion breeding and silent auction were held to raise funds to support the ARC and Darley Awards. All totaled, the event raised $28,565.
Master of Ceremonies Paul Husband came on stage to introduce the nominees and announce the winners. Sand Witchh (Burning Sand x Tornade Du Loup, by Tornado De Syrah) was the big winner of the evening taking home Horse of the Year as well as Champion 3-Year-Old Filly. Breeder and previous owner Dianne Waldron along with Sharon Clark, representing current owner Guy Neivens, were on hand to accept the trophy. Sand Witchh was undefeated in 5 starts, including 4 stakes victories.
An exciting change announced by Ted Wright, chief steward of the ARC, had to do with expanding the voting for the Darley Awards. Beginning with 2010, an entity that nominates a horse into the ARC program is eligible to vote on the selected Darley nominees for the current year. An individual will only get one vote regardless of how many horses that person nominates, and if that person serves on a board that already receives a vote, that person will still only receive one vote. Also, the list resets every year so in order to vote each year, the entity must nominate a horse each year.
Arabian Stakes Races featured during Darley Weekend were the Texas Six Shooter (G2) 4-Year-Old Colts & Geldings and Texas Yellow Rose (G2) 4-Year-Old Fillies, on Friday, March 12, at Sam Houston Race Park.

The weekend was spiced up by two open houses at Arabian racing and breeding farms owned by members of the Texas Arabian Breeders Association. Leslie Gicewicz and Dick Polk hosted a kick-off welcome party and open house with Mexican flair at their farm on Friday. Jane and Ray Teutsch hosted an open house and brunch on Saturday at La Estrellita Ranch, featuring presentations of stallions.
Host hotel for the 2010 Darleys was the Hilton Houston North. Darley evening events began with a 6pm cocktail hour followed by dinner at 7pm, the stallion auction and silent auction at 7:45, and the Darley Awards Ceremony beginning at 8:30. Entertainment followed at 10pm.